Cellist Marina Martins and pianist Leandro Roverso took the stage of St. Paul's School theatre in late August, to delight us with a remarkable recital on behalf of Fundação St. Paul's. The event was an initiative from the school's PTA (Parents and Teachers Association) in partnership with The Friends of the Foundation.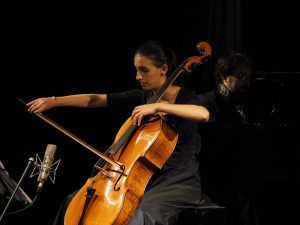 The evening's repertoire gathered classical pieces of composers from three different countries. The audience filled the room in effusive applause after each section from the French composers Charles Debussy and Francis Poulenc, the Russian Dimitri Shostakovich and also a fantastic rendition of choro, frevo and baião from André Mehmari's "Brazilian Suite".
This recital was also an opportunity for Marina to feel what was like to be at school again – she is an Old Paulean and left St. Paul's School in 2014, in Form 4, to study abroad at an institution for talented musicians. The 20-year-old cellist described the feeling of being back here: "the last time I played in this very same theatre was five years ago, and it's very emotional do be able to play here again, especially for such a special cause as the foundation's".
Dr Barry Hallinan, Senior Master at St. Paul's, watched Marina's development as a virtuous musician back then when she was still a pupil and speaks about what is like to see her on stage today. "Her repertoire, poise, musical ability and performance skills set left us all with no doubt that we were before a seriously talented young cellist".
All the proceeds from the concert contribute to Fundação St. Paul's scholarship programme.
Check more pictures from the event below. All images in both the article and the photo gallery are courtesy of the photographer Marco Costa.