We are halfway through the preparation course for our five candidates in the 2019 entry selection. As this term's end comes closer – the lessons go until early June – the selection of the scholars is approaching, and it becomes even more important for the students to keep up their hard work to succeed.
To offer our candidates some guidance for the coming weeks, the foundation team arranged for the candidates to have feedback sessions with Ms Louise Simpson, Head at St. Paul's School. The feedback was derived from observations made during the preparation course lessons. These sessions were an important chance for the candidates to understand how they are really doing. "We discussed their main skills, where they thrive, and also where they need to focus in the final weeks", Ms Simpson explains.
The candidates were asked to share these insights with their parents so they can keep abreast of the program.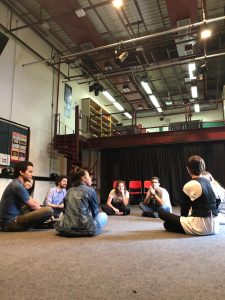 Two-way road
Not only have the candidates received feedback on their progress regarding the preparation course, but also they have had a chance to tell us how they feel about this phase of the selection. They recently met FSP Board members to share with them their initial impressions. "This is the foundation's first preparation course and we know we have a lot to learn. The candidates' feedback was very enlightening, and we found the request for more homework both surprising and gratifying", states James Wilkinson, the chairman of Fundação St. Paul's.
The candidates highlighted how important it is to have this open door for exchanging information. They pointed out how the prep course plays a crucial role in setting the tone of what it would be like to become a Lion and to study in a different model to a regular Brazilian school. The group also explained how important it was for them to find that the St. Paul's staff and pupils they've met have made them feel very welcome and comfortable in this new environment.
Also mentioned was the importance of constant feedback from the teachers and how the exposure to different subjects here at the school has opened their minds to different ways of approaching a schooling programme.