On April 27th St. Paul's school welcomed some very special guests – the best applicants for the 2020 Scholarship entry and their families. Fundação St. Paul's team selected 72 candidates from over 100 applications to sit online tests whilst their parents toured the school and learnt more about the scholarship programme.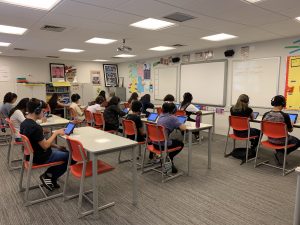 "After reviewing the results we will have a more detailed profile of the 2020 candidates and will be able to design the preparation course with more precision". Says Ms Louise Simpson, Head at St. Paul's, who attended the Q&A session with the candidates' parents and family members.
Over the next days, the FSP team will inform the students if they have moved to the next phase of the selection when they will have interviews with some of the St. Paul's senior staff. By the end of this semester, we will identify the group of around 10 who will be invited to join the one-year preparation course, starting in August 2019.
If you are a candidate for this year's entry, keep your eyes on the e-mail address you have provided in your application. This is where we will send all communication regarding the selection process.