The candidates for the 2019 Entry of the Fundação St. Paul's scholarship programme are now attending their preparation course, as part of the selection process for this year's entry. The course, taught entirely in English, covers several subjects such as British Culture, Sports, Environmental Issues, History and Language. The sessions run three times per week from February 11th and go on until early June. This phase is both an exciting and challenging time for the candidates, as they get to know the educational model of an international school.
"This course is a great chance for them to approach subjects from new perspectives and enhance their English level. As for the school staff, it is a rich opportunity to observe the candidates' development and see how they adapt to the school's environment", states Ms Simpson, Head at St. Paul's School.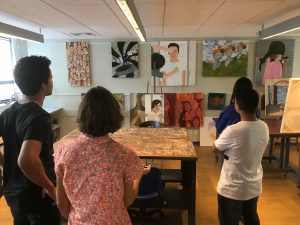 The candidates will be using many of the school rooms and labs. The idea is that they can start feeling familiar with the buildings and facilities. Arts is one of the many subjects offered, and the group were fascinated to see the pupil's work in class, exhibited throughout the rooms. "During the sessions, they developed problem-solving skills through art as well as questioning the role of art in their lives and society", explains Ms Rebelo, Head of Arts at St. Paul's.
In addition to St. Paul's teachers, assistants and pupils have also volunteered to share their knowledge and experience with the candidates during the preparation course. The classes are held in the afternoons, after their regular school hours.