August is one of the most eagerly anticipated months in the foundation's calendar – our scholars start school and our new candidates commence their preparation course. From over one hundred hopefuls and a rigorous sequence of interviews and tests, the team of Fundação St. Paul's have selected eight candidates for 2020 entry to start their one-year preparation course – taught entirely in English and on after-school hours.
The candidates will spend the first semester in English immersion at Cultura Inglesa, followed by six months of masterclasses at St. Paul's.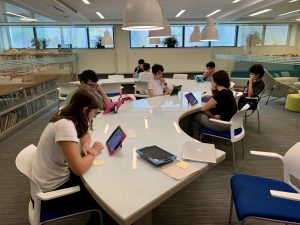 The foundation has recently created a partnership with Cultura Inglesa, an English school with a strong reputation built over 80 years in the Brazilian market. All the candidates will attend their course twice a week, for this whole semester, in the closest unit to their home or school. Also, once every three weeks, they will have an extra lesson at St. Paul's focused on learning support that will also allow them to interact with each other in the language.
In recognition of the foundation's aims, the English school has been very generous with its pricing. "We are happy to contribute to this project. As a non-profit educational institution, Cultura Inglesa supports initiatives with significant social impact and we are sure this project by Fundação St. Paul's will achieve such impact", says Marcos Noll Barboza, CEO for Cultura Inglesa.
"English is key to success at St. Paul's. Cultura Inglesa's experience is invaluable in ensuring that our candidates come to school fully prepared", states James Wilkinson, chairman for the Fundação St. Paul's.
For the masterclasses programme, all lessons will be held at St. Paul's School, three times a week. The preparation course ends in June 2020. At this point, the Foundation will have the ever-challenging task of selecting the next St. Paul's scholars.
Foundation prepares next selection for the scholarship program
Those interested in applying for the Fundação St. Paul's scholarship program should stay tuned: the process that will select scholars to enrol in St. Paul's School in 2021, will be launched early next year. The application period will be announced soon here on our website and via our social media.