Our candidates competing for scholarships to start in August 2020 have just commenced the second part of their preparation year – 'masterclasses' at St. Paul's School. This follows on from their last six months of intensive English improvement activity at Cultura Inglesa.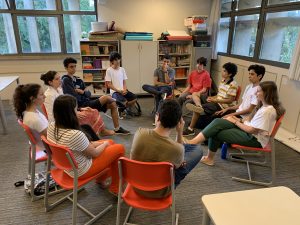 The eight student group will attend classes at the school three times per week, learning about a variety of subjects – all in English. The topics range from British Culture through to Communications, Physics and Drama. Volunteer teachers lead the lessons, and many will also include current St. Paul's pupils. Taster Days are also being arranged to allow the candidates to spend a whole day at the school and get a real feeling of what it's like to study at St. Paul's on a full-time basis.
The objective of these six months is for the prospective scholars to get to know the school, and for the school to get to know them. It's the final stage of the preparation process prior to the selection of the 2020 Scholars in June. The chosen students will start studying at St. Paul's School in August and the foundation will support the unsuccessful candidates in finding places on other programmes, if they so wish.